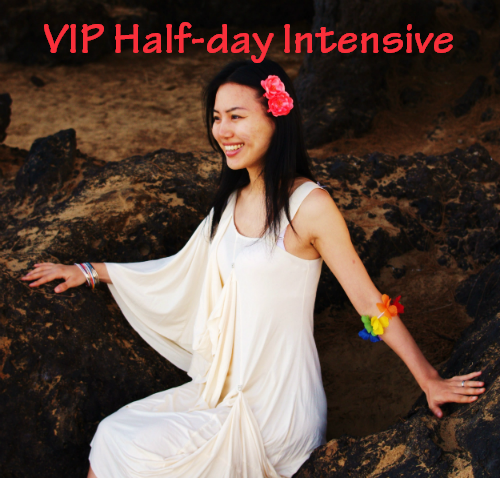 In the past 3 weeks, I've had the privilege to work with a few exceptional, heart-felt business women. Some just started out, while others have been around for a while. No matter where they are in biz, it is their courageous soul & benevolent desire to serve that touches me deeply.
We had great times together clearing out the inner blocks and implementing the practical side, from pricing, packages, home/about page, ideal client to biz plan…
I'm truly honoured to be part of their journey. I'm grateful that they showed up in my life. I'm also grateful that I allowed myself to reach this place, step by step. Just over a year ago, I couldn't even speak for more than 5 minutes with someone on the phone. But now, tuning-in & talking about the right strategy, which is a good fit for the client, feels so natural and blissful to me.
I'm sharing this with you to remind you that, as long as it is your true desire, all is possible! If you are just starting out, don't be shy talking about your vision on your website or at the network events. 
Or if you are in the middle of uplevelling, don't let the emotional "stuff" scare you away, trust your inner-voice. It is just one more block to overcome…You will get to the place where you & your biz can breathe a lot better.
One of my favourite aspects of my work is to peel off the patterns and disbelief, see your true essence & help you to activate the old & wise soul inside. When you run your life & biz from this place, the practical side becomes clearer, more doable and fun…
Within the half-day, what you can achieve is powerful yet very simple:
1. Give yourself permission to do what you truly desire: "Working with you is a great way to get in touch with that part of me that is hungry to come out…" – Lidys
2. Earn more money as quickly as possible: "I increased my revenue by 20% immediately…" – Thomas
My style blends metaphysical woo & the down-to-earth practicality. As soon as your essence shows up, my gift is to work out the right balance to suit your situation.