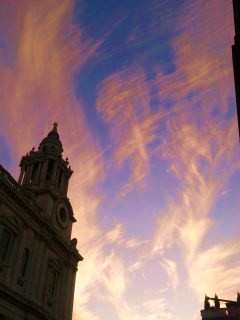 Many ex-corporate-colleagues know that I am a coach/mentor/teacher now, so they have started to ask me more in-depth questions about themselves.
And I always want to re-direct them to recognise their gifts. The gifts that are from their souls and spirit, which are their birthright.
For me, the root cause of any frustration is that you forget to share your gifts!
That's when conversations tend to end.
Many don't believe that they have gifts.
Others half-believe it but don't feel comfortable to step into a much more exciting arena.
Some people start to turn away from me when this topic is hit.
But I know that what they turn away from is not me, it is their own brilliance.
Are you afraid of your own brilliance?
Most of us are.
Marianne Williamson summed it up exceptionally well:
"Our deepest fear is not that we are inadequate. Our deepest fear is that we are powerful beyond measure. It is our light, not our darkness that most frightens us. We ask ourselves, Who am I to be brilliant, gorgeous, talented, fabulous? Actually, who are you not to be? You are a child of God. Your playing small does not serve the world. There is nothing enlightened about shrinking so that other people won't feel insecure around you. We are all meant to shine, as children do. We were born to make manifest the glory of God that is within us. It's not just in some of us; it's in everyone. And as we let our own light shine, we unconsciously give other people permission to do the same. As we are liberated from our own fear, our presence automatically liberates others."
You don't have to refer it to "God" if you are not comfortable with the word. I call it source/Tao/All-that-is/Universe.
The source is really inside you, in every single cell of your body.
However, we are programmed to live with fears. We fear to feel great.
We are worried about what if our happiness will all disappear in the next minute.
We prepare for the worst, because we are insecure about the future and results. We use this approach to "protect us" so that we can feel alright when the outcome is slightly better than the worst case scenario.
However, ultimately,
Insecurity = low self-esteem
Deep down most of us don't think we deserve greatness. Whether it is rooted from your upbringing or your imprint, it is one of the greatest lies.
Do you feel the shift of energy at a global level lately? There is a new wave of people who celebrate their creativity, gifts, light and love everyday? It's time for you to join the club! Or if you are already in, shine yourself brighter!
You are meant to live big. I am not talking about being famous, driving a Porsche along the street or living in a mansion, however if that actually gives you a deep sense of inner-peace, by all means go for it.
But you are meant to shine your light, be abundant. You are meant to have it all.
You are meant to create, to enjoy, to serve, to heal and to inspire.
You may say "but I am in a dark place right now".
Of course you are in a dark place, and your light might even attract more darkness.
But you are not here by accident, you are here so that you can bring light to others!
How are you going to fight the darkness? Get angry or upset?
No, you will shine your light regardless. You will be still and hold your light high. Ever seen the lighthouse at night? So calming and comforting – and that is your presence!

That's how you are going to fight the darkness, my dear friend – by not fighting.
"You are who you are" means "you are who you are regardless".
Not "you are who you are, as long as they are who they are."
Do you know that you have a best friend and master living inside you? S/he is gifted, wise and centred. Your job is only to ALLOW it to come through.
You have been waiting all the time to re-connect with him/her.
Wake up, NOW.
It can only be done by a pure and strong intention. I don't have a list of actions this time. Because it must be from a clear decision within.
"Oh, but I don't think the timing is appropriate now. I need to finish my qualifications, sign off the holiday, get married, buy a house, set up my own business and leave this rat race….etc first."
Every moment is appropriate, dear ones.
So be it.
Love always,

Find this post useful?
Come over & learn how to express your inner-master & remove your self-doubt and fulfil your potential.
If you find this post helpful, please share it on!