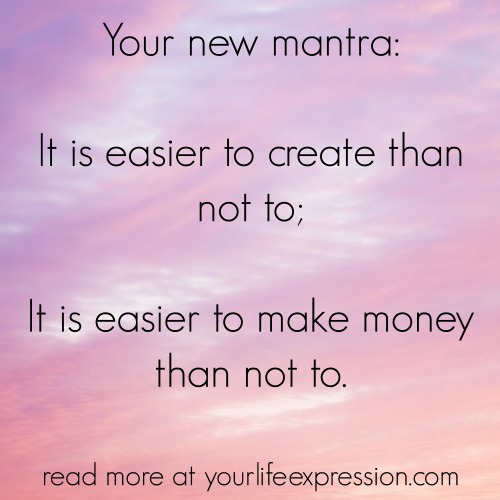 I had writer's block for over 10 years.
My two teachers Sonia Choquette and Julia Cameron helped me change this reality. Sonia – I met her a few times at live events – I took all her online courses, and had readings with her.
And Julia – I have not met her yet. I read a few of her books back to front though. The top mindset in her books really strikes a chord with me: "It is easier to write than not to."
"How come I never thought this way before?" I asked myself. I was intrigued, and I followed this mantra. It is easier to write than not to, if this is the story you are telling yourself.
————–
In late 2013, I hit an income plateau. My newish online biz was doing just fine. I wanted to be a healer, so I quit the corporate world about 18 months before, and I made myself a healer.
I desired to hold people in my arms, rocking them:"It is not your fault that things turned out to be this way, let me help you."
It worked. They felt the love. It activated the love within them. I helped them to heal. But along came another problem. 
I didn't just want to be a healer anymore. How about my strategic side, the problem solving side, the trouble shooting, the no nonsense side, or even my sarcastic side?
I didn't want to leave all those aspects behind. But I didn't know how to make it happen.
I was blocked.
I thought about the writing mantra: "It is easier to write than not to."
Can I apply this to my business?
I wasn't sure, but I gave it a go.
————–
I wrote my business mantra:
"It is easier to make money than not to.
It is easier to create than not to.
It is easier to launch than not to…"
I shared it on my website and a few forums.
————–
Somehow the internal switch just got flipped.
It helped! And my biz took a quantum leap soon after that.
Do you know that stories shape your reality. You might call it stories, or patterns, or ego personality, or subconscious programming. 95% of the time you make decision based on this programming. Until you make a conscious switch, dissolve the old stories, your reality is highly likely to be an extension of your existing patterns.
If you want to live your vision, grow your business gracefully, first and foremost, change your stories around your self-worth & Money.
Ultilize the 95% of you and take responsibility for your reality.
If you don't want to repeat something tediously 300 times a day, I've recorded a subliminal audio just for you (value $25) – it will help you to form a new story effectively. 
In the past, students have reported that this subliminal audio assisted them in manifesting 2-5 ideal clients within days, a deposit to buy a home, the required funding to launch their biz, or a guest blog being accepted and featured. You can grab yours today – my gift to you once you claim your Money First Aid Kit.
[today is the last day to claim it]