If so, you are awesome! Please read on. It will be my honour to share more tips (including a freebie) to assist your progress.
If not, please can you be open-minded to this goal? Give it a go anyway?
30 days ago, it was my last day of a project in the city. I came across the 30 Day Challenge led by John Williams and Selina Barker. Back then, I had an idea of starting a blog to help people to realise how great they actually are, but I didn't know where this would lead me, or if anyone would ever read my stuff. I hesitated for 5 seconds then decided to give it a go, just for the hell out of it.
Now, 30 days later – I am so amazed by how much one can change him/herself within this timeframe! I finished reading what my fellow challengers did: got their health back, made their own music, re-connected with their creativity, made amazing videos, pictures, blogs and attracted a first paying client! There were difficult times, but there was always supportive energy in the air!
As for myself,  a simple blog is turning into a resourceful website, a couple of posts turning into a practical e-book, what's more – I am rolling out of the city gradually and becoming a Creativity & Life Expression Coach!
Excitement doesn't describe my feeling fully; it was more of a huge relief. If you were like me, who has been suppressing your dreams for a while, you will know exactly what I am talking about. Finally I am who I am. No more hiding, no more frustration, no more excuses.
Dear friends and readers, I am sure you can do the same too, or better!
You don't "figure out" who you are in your head; you become who you are by getting off your arse and re-connecting to what you love.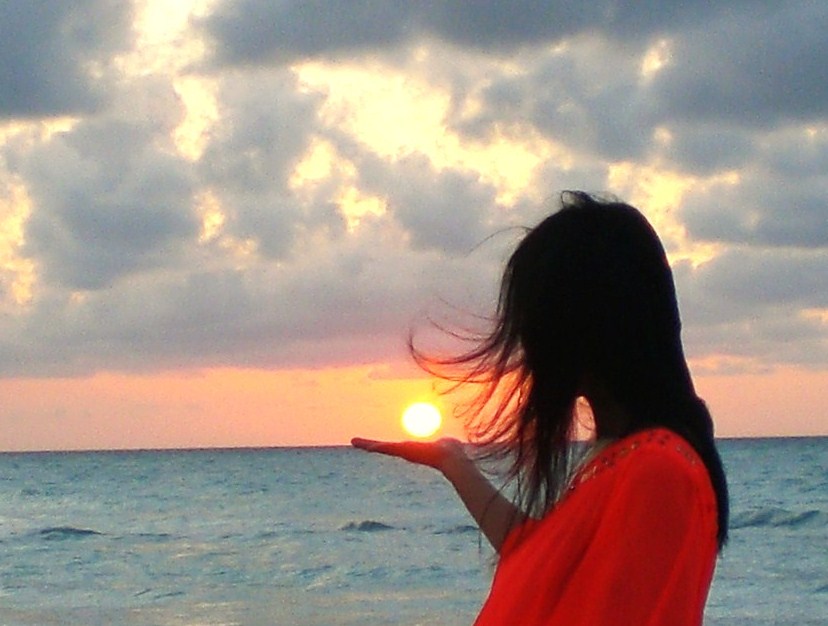 I don't mean you have to quit your job or completely change your direction, but just enjoy playing and re-discover who you actually are. Do something that matters to you. Changes, no matter how little or big, can be scary. I know. However the potential dividends of more happiness just can not be under-estimated (OK, there is still a bit of an accountant in me!).
Here is a question for you, what do you want to achieve in the next 30 days in your life? In what aspect of life you want to experience more joy and satisfaction? It doesn't really matter what, as long as you find it fun. It could even be doing minimum or undertaking media deprivation.
Come up an idea to do, to play, to test. This is probably the trickiest step, that's why I have written a more detailed guideline Big dreams and Baby steps worksheet that is proven to work (you can grab it for free, simply enter your email address and subscribe.  Existing subscribers you should have received it). The whole point is not to set yourself an ambitious and unreachable goal, but to have an experience of living your dream. I will help you to dream big and stay on cloud 9, but also break things down for you to start with immediately. The project will then serve you as fire starter to grow into something more substantial in the future.
Get the support of your subconscious mind, using tips and tools in these two posts the unwritten scrip and how to re-program yourself.
Get to know your fears, writing them down will help. Once you clear the obstacles and gain the clarity, you will move forward a lot faster. I was once very stuck too, but with the help of my coach Carole Ann Rice, I took fears as opportunities for personal growth. I'll write a separate post about it.
Set your goals small and achievable. It has to be achievable in particular at the beginning, otherwise you will bail out too easily. Set small goals but stay open-minded and see what will show up. I started with a goal to have a blog with say 6, 7 quality posts. Then what happened was that I couldn't stop writing, so I am coming up with an e-book which contains more systematic and in-depth theories, guidelines and actionable tools. This then will give me a foundation to launch my coaching service.
Take your project as your priority with NO EXCEPTIONS in the next 30 days. You are definitely allowed to rest! In fact, I recommend you rest regularly, but your project has to be your top priority every week. You don't have enough time? Really? Sorry but I want to challenge you here. If it is important to you, you will find the time, steal and grab a 10 minutes gap, here and there. If you find your office or home is not the ideal environment for your project, then find a café and make some progress there before you head home and want to sit on the sofa to relax (we all have a sofa that we can't get out of at times).
Always start before you are ready. If you are waiting for the perfect sign for everything, chances are it will never be perfect for you. Start something small and simple, you can always upgrade later on. So start now, go explore and have fun!

Focus on your core

, for example, for me it was to re-connect to my voice and start to write again. I could have spent hours and days worrying about how to use sophisticated plug-ins on WordPress, or staring at my FB likes list and wondering why it hasn't gone up yet. If I had done that, I would just beat myself up all day and not be able to focus on the content of this website or my book. I know that, at this stage, all I need to do (and must do) is to keep writing, really understand the pain points of my clients and always challenge myself on how I can serve them better. Remember – you must use your core as a momentum to get everything else going, NOT another way around.
I highly recommend you joining this project if you can. If for whatever reason you are not able to, you can always design this challenge for yourself.
Stay truthful with your dreams.
Thank you John and Selina for doing what you do. Also to my friends in 30 DC Julia, Lasusa, Sophie, Charlotte, Fabio, Sarah, Sam, David, Irena – thanks for your inspiration and support.
A special thank you to my hubby Andrew, my coach Carole Ann, my dear friends Gio, Anh, Ekie, David, Shona, Ashley, Mark, Reda, Jia Rui, Renny, Rachel, this website would not be started without your kind encouragements. And of course all my subscribers and FB supporters.
And deep gratitude to my spiritual teacher Sonia Choquette, for passing an immense amount of wisdom to the world.
Find this post useful?
Come over & learn how to remove your self-doubt and fulfil your potential.